All wines are packed at our facility and shipped in special thermal polystyrene inserts to preserve the integrity of the bottles and safeguard wines from temperature fluctuations and humidity during transport.

Thanks to their insulating properties and easily stackable shape, the containers may be used to store wine horizontally protecting bottles from light and heat, mimicking a cellar.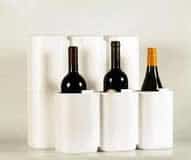 To increase safety, the polystyrene inserts are housed inside three-layer sealed alveolar cartons to ensure packages are not opened during transport.

Shipments within Italy of more than 48 bottles are not packaged individually as described above. They are shipped in special wine boxes containing 6 or 12 bottles each. Cartons are then placed on wooden pallets, wrapped with cellophane to prevent movement during transport, and if necessary strapped for security.

This system is used by wine shipping companies worldwide guaranteeing absolute secure space saving transport for large quantities of bottles resulting in reduced shipping costs.
NOTE
Wines that must be shipped by air (United States, Australia, etc ...) are packed exclusively in polystyrene cellars regardless of the number of bottles ordered. For greater safety, each box will contain a maximum of 12 bottles.